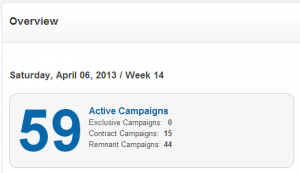 This plugin will help you save time every day by showing you a quick overview of the total number of active campaigns, broken down by type (exclusive, contract, remnant). More quick stats overviews will be added in future releases.
But more importantly, by clicking the big number, you will immediately see an overview of all your currently active contract campaigns, with a visual progress indicator. Continue reading to find out more!
Campaign monitor with visual progress indicator
Instead of having to go through the list of campaigns of all your advertisers, you see your contract campaigns listed here in a single screen. The campaigns that will end first are at the top, the ones that have some more time remaining are lower in the list.
The campaign name can be click to take you to the properties page directly, should you need to edit the campaign settings. The blue time progress bar shows you what percentage of the duration of the campaign has passed, and the colored line below is a visual progress indicator showing you exactly if a campaign is on schedule (in green), or behind or ahead of schedule (yellow). In severe cases, where the campaign is more than 10% off schedule, the visual progress indicator will turn red, enabling you to take action quickly and precisely.
More about DashiX – Revive Adserver Dashboard Plugin.